Adam A. Ingraffea, MD
Compassionate Patient Care
Our team is dedicated to providing friendly and compassionate care. The surgery is performed in private surgical suites and each patient's care is delivered with excellence by our superb team members. We are committed to patient safety, privacy and quality care.
Adam A. Ingraffea, MD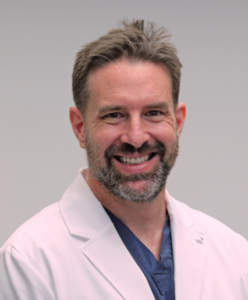 Adam Ingraffea, MD, grew up in Ithaca, NY. Dr. Ingraffea graduated from Boston University with a bachelor's degree in Chemistry. He spent his 20's working as a polymer chemist in Connecticut and later in New York. He also spent several years living in Argentina and Bolivia where he taught English and Chemistry. The experience of living in a third world country inspired him to dedicate his life to helping those in need. He also developed a love for the Spanish language and Latino culture.
He studied medicine at the Ponce School of Medicine in Ponce, Puerto Rico. He graduated class valedictorian and was selected to the Alpha Omega Alpha medical honor society. He went on to complete a dermatology residency at the Boston University/Roger Williams Medical Center in Providence, Rhode Island, where he served as chief resident. Dr. Ingraffea then moved to Cincinnati to train in Mohs surgery under the direction of Hugh Gloster, MD, at the University of Cincinnati College of Medicine.
He served as an assistant professor of dermatology at the University of Cincinnati College of Medicine for five years. He was the associate program director for both the dermatology residency and Mohs surgery fellowships. He was also the director of the resident continuity clinic and Mohs surgery at the Cincinnati VA hospital. While at the University of Cincinnati, Dr. Ingraffea won many awards including Teacher of the Year in 2012. He was selected as a Best Physician in Cincinnati Magazine for three years in a row from 2013-2016. He is the author of 18 peer reviewed papers as well as multiple book chapters.
His clinical interests are in cutaneous oncology, Mohs surgery and facial reconstruction. He has performed over 20,000 cases of Mohs surgery.
He enjoys spending time with his wife Edith, who is a Pediatrician, and his two young children Alex and Elena. He loves outdoor activities such as golf, fishing, hunting and SCUBA diving. A certified Private Pilot, Dr. Ingraffea is working toward his Instrument rating.
Dr. Ingraffea's Resume